Today I'm participating in a lInk party over ata Happy to Design: Sunday Favorites.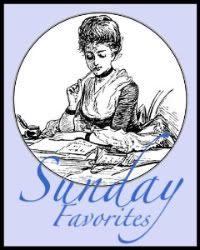 I'm reposting this post from last winter, and I hope you enjoy it and maybe learn something.
Hope you finish out the weekend with joy!
I switched beds around in my house, and while I was putting eveything back together today, I realized that it's the vignettes within the room that bring in style and grace to the space.
Of course, I began thinking about what makes a vignette beautiful...what separates a great vignette from an OK one. So instead of finishing what I had started, I hit the computer looking for beautiul vignettes (this blog is called Divine Distractions after all....it's what I do ).
In studying the bevy of beauties I found, it goes back to the principles of good design...scale, balance, line, color and rhythm.
Great symmetry here...and the spot of color from the lemons is so right!
Count how many repetitions are in this little space.
...and here. Symmetrical balance, characterized by even numbers, items that mirror one another, things that are centered...all make for a more formal arrangement and feel.
Two pillows, two arches on the legs of the bench, two finials, two horizontal pics, two vertical ones....that's formal symmetry.
I have a love-hate relationship with symmetry. I enjoy the strength and stability of formal balance, but I really think an asymmetrical arrangement is more interesting and artistic....that's me...interesting and artistic!
This vignette can't decide if it's symmetrical or asymmetrical....kind of like me!
I haven't ridden a horse since I was a child, but I'm coveting these riding boots. I love that they are a bit askew, standing there. Of course, you know I love the pops of orange. What an eclectic, little vignette!
I wish this had posted a little clearer, but I just love this tablescape. I love the shapes, the colors and the lines. It seems perfectly planned.
Isn't this serene and beautiful? What amazing lines in this table! I love the repetition of color in the silver and green, and the soft, soothing art work.
They have kept the color palette here very clean and neutral, and it really allows me to focus on the photograph, which might get lost otherwise. The white in the hydrangeas (my fav), the roses and the vases really unifies the tablescape.
Such a mix of styles here, but it really works. Two florals seems like overkill to me, but the scene has a casual quality that is inviting. The greens and whites in the organics are repeated in a very subtle way, bringing unity to the vignette. Lovely!
The lines on this table and mirror are the star of this vignette. How simple, curvy and elegant. Too much "stuff" would take away from the beautiful lines, don't you think?
Fruit and flowers...love this.
Ok, I'm inspired now....have to go finish putting those rooms back together now....until I'm distracted once again.